Consultant(e) sénior(e), efficacité énergétique / Senior Consultant, Energy Efficiency
English below
Le développement durable vous passionne ? Vous souhaitez contribuer à la lutte contre les changements climatiques en rejoignant une entreprise au cœur de la transition énergétique mondiale ? Vous appréciez analyser de l'information pour faire des réflexions stratégiques et trouverdes solutions innovantes aux problèmes soulevés par des clients ? Nous aimerions vous rencontrer!
Ce que vous ferez
Chez Econoler, le consultant sénior a pour mission de diriger les projets en assurant la qualité technique et la satisfaction des clients. Vous rapportant au chef d'équipe, vous travaillerez au sein du groupe National, qui offre des services de consultation en efficacité énergétique et carboneutralité pour des distributeurs d'énergie, gouvernements, associations et grands consommateurs d'énergie partout au Canada.
Vous travaillerez avec rigueur pour recueillir et analyser quantité d'informations afin d'en tirer des constats et conseiller nos clients dans leurs initiatives visant l'efficacité énergétique et la carboneutralité. Vous participerez aux différentes étapes de réalisation du mandat, de la définition des besoins à la formulation des recommandations, et travaillerez en équipe sur des mandats d'envergure. Par exemple, vous pourriez être responsable d'évaluer la performance d'un programme de gestion de l'énergie, mesurer l'impact de l'implantation d'une nouvelle tarification énergétique, développer un outil pour faciliter l'analyse de rentabilité de projets, conseiller un client dans sa stratégie de carboneutralité ou mener une étude de marché sur des technologies efficaces.
Vous aurez l'opportunité de :
Gestion de projets
Préparer les plans de travail, les échéanciers et les budgets ;
Assigner les tâches à l'équipe de travail et en assurer la progression ;
Entretenir des contacts réguliers avec les clients pour s'assurer que le travail est conforme à leurs attentes ainsi qu'à l'esprit et aux termes du contrat ;
Diriger les rencontres de suivi avec l'équipe de travail ;
Coordonner la rédaction des livrables et en assurer la qualité.
Expertise technique
Développer les méthodologies de recherche et de collecte de données (analyse de données, entrevues auprès de parties prenantes, revue de littérature, visites sur site) ;
Appuyer le chargé de projet dans la préparation des plans de travail, des échéanciers et des budgets ;
Accompagner l'équipe de travail dans l'exécution des tâches ;
Réviser le travail à chaque étape clé (protocole de recherche, plan d'échantillonnage, outils de calcul, etc.) ;
Exécuter certaines tâches plus complexes ou stratégiques ;
Participer aux rencontres ou entrevues servant à collecter de l'information pour les projets ;
Réviser les résultats présentés dans les livrables et les analyser ;
Rédiger les principaux constats et recommendations à présenter aux clients ;
Fournir toute autre assistance technique ou conseils sur divers projets ;
Participer au développement de l'expertise interne par du mentorat et de la formation.
Développement des affaires
Aider l'équipe du développement des affaires dans l'analyse d'appels d'offres et la rédaction de propositions de services et rester à l'affût des occasions d'affaires avec les clients des mandats sur lesquels vous travaillerez.
Ce que nous recherchons
Profil
Baccalauréat en ingénierie, science, économie, finance ou tout autre diplôme pertinent
Au moins dix (10) ans d'expérience dans le domaine de l'efficacité énergétique, du développement durable, de la gestion de l'énergie ou tout autre domaine connexe
Au moins trois (3) ans d'expérience en gestion de projets
Expérience en ou exposition au développement des affaires
Compétences essentielles
Excellente habileté de communication orale et écrite en français et en anglais (plusieurs mandats se déroulant dans la langue anglaise)
Excellente capacité d'analyse
Excellente capacité de vulgarisation
Savoir mettre l'accent sur les items à valeur ajoutée
Grande autonomie, tout en aimant travailler en équipe
Capacité et intérêt à mentorer et supporter des collègues plus juniors
Intérêt pour la recherche, les revues de littérature et demeurer au fait des tendances du marché
Atouts
Maîtrise dans un domaine lié à l'énergie
Réseau d'affaires professionnel établi
Ce que nous vous offrons
Le bien-être et l'épanouissement de nos employés sont essentiels à notre réussite, et nous sommes heureux de vous offrir :
Flexibilité des horaires
Flexibilité de l'emplacement de travail – nous avons des bureaux à Québec, Montréal et Toronto, en plus du travail à la maison
Opportunités de croissance internes
Formation continue personnalisée à vos aspirations professionnelles et besoins
Vacances flexibles
Congé des fêtes
Remboursement des titres de transport en commun
Plan d'assurance modulaire à contribution
Télémédecine
REER à contribution
Club social actif
À propos de nous
Forte de la réalisation de 5 000 projets dans plus de 160 pays, Econoler est depuis 40 ans un leader de l'efficacité énergétique et de la lutte aux changements climatiques.
Notre plus grand atout ? Notre équipe ! Constituée de spécialistes aux multiples talents, de visionnaires et de gestionnaires inspirants, c'est grâce à elle que nous offrons et maintenons l'excellence de nos services de consultation.
En misant sur nos forces et expertises complémentaires, nous innovons dans un but commun de : lutter contre les changements climatiques et favoriser le développement économique en misant sur l'efficacité énergétique.
Se joindre à Econoler, c'est donner du sens à votre travail et intégrer une équipe ingénieuse, audacieuse et passionnée !
Découvrez-en davantage au econoler.com/carrieres.
Econoler est un employeur garantissant l'égalité des chances. Nous célébrons la diversité et nous nous engageons à créer un environnement inclusif pour tous nos employés.
L'emploi grammatical du masculin n'a pour but que d'alléger le texte.
---
Do you have a passion for sustainable development? Do you want to contribute to the fight against climate change by joining a firm at the heart of the worldwide energy transition? Do you appreciate data analysis and strategically reflecting to find innovative solutions to clients' problems? We want to meet you!
What You Will Do
The mission of the Senior Consultant, Energy Efficiency, is to lead projects by ensuring technical quality and client satisfaction. Reporting to the Team Leader, you will work with the National group and provide energy efficiency and carbon neutrality consultation services to energy distributors, governments, associations, and large energy consumers everywhere in Canada.
You will rigorously collect and analyze information and draw conclusions to advise clients in their energy efficiency and carbon neutrality initiatives. You will participate in the various steps of implementing mandates, from defining needs to formulating recommendations, and work with the team on large-scale mandates. For example, you may be in charge of evaluating the performance of energy management systems, measuring the impacts of implementing new energy tariffs, developing tools to analyze project cost-effectiveness, advising clients on carbon neutral strategies, or conducting market studies on efficient technologies.
You will have the opportunity to:
Project Management
Prepare work plans, schedules, and budgets;
Assign tasks to the work team and ensure progress;
Maintain regular contact with clients to ensure the work complies with their expectations as well as the spirit and terms of contracts;
Lead follow-up meetings with the work team;
Coordinate the preparation of deliverables and ensure quality.
Technical Expertise
Develop research and data-collection methodologies (data analysis, stakeholder interviews, literature reviews, site visits);
Support the project manager in the preparation of work plans, schedules, and budgets;
Assist the work team in the execution of tasks;
Review the work at each key step (research protocols, sampling plans, calculation tools, etc.);
Carry out more complex or strategic tasks;
Participate in meetings or interviews to collect project information;
Review and analyze the results presented in deliverables;
Prepare main findings and recommendations to be presented to clients;
Provide all other required technical assistance or advice for various projects;
Participate in the development of internal expertise through mentoring and training.
Business Development
Help the business development team analyze calls for tenders and prepare service proposals; remain current on client business opportunities through the mandates on which you will work.
What We Are Looking For
Profile
Bachelor's Degree in Engineering, Sciences, Economics, Finance, or other relevant degree;
At least ten (10) years of experience in the fields of energy efficiency, sustainable development, energy management, or other related field;
At least three (3) years of experience in project management;
Experience in or exposure to business development.
Required Skills
Excellent oral and written communication skills in French and English (many mandates are carried out in English);
Excellent analysis abilities;
Excellent capacity explain technical concepts in simple terms;
Know how to emphasize added value items;
Great autonomy while enjoying teamwork;
Capacity and interest in mentoring and support more junior colleagues;
Interest in research and literature reviews as well as remaining aware of market trends.
Assets
Master's degree in an energy related field;
Established professional business network.
What We Offer
The well-being and fulfillment of our employees are essential to our success, and we are pleased to offer:
Flexible work schedules
Flexible work locations – we have offices in Quebec City, Montreal and Toronto, plus working from home
Opportunities for internal development
Continuous training tailored to your professional aspirations and needs
Flexible vacation
Holidays
Reimbursement of public transit fees
Modular insurance plan with contribution
Telemedicine
RRSP with contribution
Active social club
About Us
Having implemented 5,000 projects in more than 160 countries, Econoler has been a leader in energy efficiency and the fight against climate change for more than 40 years.
What is our greatest asset? Our team is! Comprised of specialists with multiple talents, visionaries, and inspiring managers, it is thanks to our team that we provide and maintain excellence in our consulting services.
By banking on our strengths and complementary areas of expertise, we innovate with one common goal: Fight against climate change and foster economic development by investing in energy efficiency.
Joining Econoler means giving purpose to your work and being part of an ingenious, audacious, and passionate team!
Find out more at econoler.com/careers.
Econoler is an employer that guarantees equal opportunity. We celebrate diversity and we are committed to creating an inclusive environment for all employees.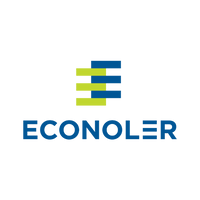 Energy | Expertise | Efficiency