Analyste sénior(e), efficacité énergétique / Senior Analyst, Energy Efficiency
English below
Le développement durable vous passionne ? Vous souhaitez contribuer à la lutte contre les changements climatiques en rejoignant une entreprise au cœur de la transition énergétique mondiale ? Vous adorez collecter de l'information, l'analyser et en tirer des recommandations utiles et à valeur ajoutée pour nos clients ? Nous aimerions vous rencontrer!
Ce que vous ferez
Chez Econoler, l'analyste en efficacité énergétique a pour mission de collecter des données, de les analyser et de faire des calculs d'impact énergétique. Vous rapportant à la ou le chef(fe) d'équipe, vous travaillerez au sein de l'équipe Planification et Évaluation de programme dans notre division Nationale.
Notre équipe travaille en étroite collaboration avec les gouvernements, les agences et les distributeurs d'énergie pour optimiser la conception et la mise en œuvre de divers programmes et initiatives dans le domaine de l'énergie. Nous travaillons avec rigueur pour recueillir et analyser quantité d'informations afin d'en tirer des constats et conseiller nos clients dans l'amélioration de la performance de leurs initiatives et l'atteinte des cibles énergétiques et financières.
Vous aurez l'opportunité de :
Participer aux réunions de démarrage et au développement du plan de recherche ou d'évaluation ;
Analyser l'information existante sur les programmes, leurs bases de données (participation, consommation énergétique, coûts, etc.) et autres données secondaires ;
Développer les outils de collecte de données (guides d'entrevues, protocoles de visites de site, etc.) et préparer les plans d'échantillonnage ;
Réaliser la collecte de données primaires et secondaires (ex : revues de littérature technique, recherche Web, entrevues, visites de sites, balisage des meilleures pratiques) ;
Faire la révision technique de demandes d'aide financière et des calculs d'économies de projets ;
Développer des calculs d'ingénierie et établir les paramètres pour quantifier l'impact énergétique de mesures d'efficacité énergétique ou de demande de pointe ;
Effectuer l'analyse des données recueillies et en tirer des constats ;
Rédiger des livrables de qualité présentant des résultats concrets et des recommandations.
Ce que nous recherchons
Profil
Diplôme universitaire en sciences ou ingénierie, ou tout autre domaine connexe ou expérience équivalente ;
Au moins trois (3) ans d'expérience dans un domaine lié à l'énergie.
Compétences essentielles
Habileté de communication orale et écrite en français et en anglais (plusieurs mandats se déroulant dans la langue anglaise) ;
Connaissance approfondie d'Excel ;
Capacité d'analyse ;
Capacité de vulgarisation ;
Souci constant du détail ;
Savoir mettre l'accent sur les items à valeur ajoutée, gestion du budget de travail ;
Intérêt pour la recherche scientifique ;
Compréhension des statistiques de base et des notions énergétiques ;
Grande autonomie, tout en aimant travailler en équipe.
Ce que nous vous offrons
Le bien-être et l'épanouissement de nos employés sont essentiels à notre réussite, et nous sommes heureux de vous offrir :
Flexibilité des horaires
Flexibilité de l'emplacement de travail – nous avons des bureaux à Québec, Montréal et Toronto, en plus du travail à la maison
Remboursement des frais d'adhésion aux ordres professionnels (notamment l'OIQ)
Opportunités de croissance internes
Formation continue personnalisée à vos aspirations professionnelles et besoins de l'entreprise
Vacances flexibles
Congé des Fêtes
Remboursement des titres de transport en commun
Plan d'assurance modulaire à contribution
Télémédecine
RRSQ à contribution
Club social actif et activités corporatives mensuelles
À propos de nous
Forte de la réalisation de 5 000 projets dans plus de 160 pays, Econoler est depuis 40 ans un leader de l'efficacité énergétique et de la lutte aux changements climatiques.
Notre plus grand atout ? Notre équipe ! Constituée de spécialistes aux multiples talents, de visionnaires et de gestionnaires inspirants, c'est grâce à elle que nous offrons et maintenons l'excellence de nos services de consultation.
En misant sur nos forces et expertises complémentaires, nous innovons dans un but commun de : lutter contre les changements climatiques et favoriser le développement économique en misant sur l'efficacité énergétique.
Se joindre à Econoler, c'est donner du sens à votre travail et intégrer une équipe ingénieuse, audacieuse et passionnée !
Découvrez-en davantage au econoler.com/carrieres.
Econoler est un employeur garantissant l'égalité des chances. Nous célébrons la diversité et nous nous engageons à créer un environnement inclusif pour tous nos employés. L'emploi grammatical du masculin n'a pour but que d'alléger le texte.
---
Are you passionate about sustainable development? Would you like to contribute to the fight against climate change by joining a company at the heart of the global energy transition? Do you love collecting information, analyzing it and drawing useful and value-added recommendations for our clients? We would love to meet you!
What You'll Do
At Econoler, the Senior Analyst's mission is to collect and analyzer data, and make energy impact calculations. Reporting to the Team Leader, you will work within the Program Planning and Evaluation team in our National Division.
Our team works closely with governments, agencies and energy distributors to optimize the design and implementation of various energy programs and initiatives. We work rigorously to collect and analyze a great deal of information in order to draw conclusions and advise our clients on improving the performance of their initiatives and achieving energy and financial targets.
You will have the opportunity to:
Participate in start-up meetings and in the development of the research or evaluation plan;
Analyze existing information on the programs, their databases (participation, energy consumption, costs, etc.) and other secondary data;
Develop data collection tools (interview guides, site visit protocols, etc.) and prepare sampling plans;
Collect primary and secondary data (e.g. technical literature reviews, web research, interviews, site visits, benchmark of best practices);
Do the technical review of financial assistance requests and savings calculations of projects;
Develop engineering calculations and establish parameters to quantify the energy impact of energy efficiency or peak demand measures;
Analyze the data collected and draw conclusions;
Write quality deliverables presenting concrete results and recommendations.
What We're Looking For
Profile
University degree in science or engineering, or any other related field or equivalent experience;
At least three (3) years of experience in an energy-related field.
Essential Skills
Oral and written communication skills in French and English (several mandates taking place in the English language);
In-depth knowledge of Excel;
Analytical skills ;
Capacity to simplify and explain complex concepts;
Constant attention to detail;
Know how to emphasize value-added items, manage and optimize the project budget;
Interest in scientific research;
Understanding of basic statistics and energy concepts;
Great autonomy, while enjoying working in a team.
What We Offer You
The well-being and development of our employees is essential to our success, and we are pleased to offer you:
Work schedule flexibility;
Flexibility of work location – we have offices in Quebec, Montreal and Toronto, in addition to working from home;
Reimbursement of membership fees for professional orders (namely the OIQ)
Internal growth opportunities;
Continuous training and development personalized to your professional aspirations and business needs;
Flexible holidays;
Winter Holidays;
Reimbursement of public transport tickets;
Contribution-Based Modular Insurance Plan;
Telemedecine;
RRSQ with contribution;
Active social club and monthly corporate activities.
About Us
Backed by the completion of 5,000 projects in more than 160 countries, Econoler has been a leader in energy efficiency and the fight against climate change for over 40 years.
Our greatest asset? Our team ! Made up of multi-talented specialists, visionaries and inspiring managers, it is thanks to them that we offer and maintain the excellence of our consulting services.
By building on our strengths and expertise, we innovate with a common goal of: fighting climate change and promoting economic development by focusing on energy efficiency.
Joining Econoler means giving meaning to your work and joining an ingenious, daring and passionate team!
Find out more at econoler.com/careers .
Econoler is an equal opportunity employer. We celebrate diversity and are committed to creating an inclusive environment for all of our employees.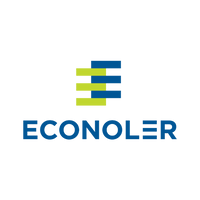 Energy | Expertise | Efficiency